So many couples find themselves immersed in the blame/shame game. It's a tit for tat back and forth of who's fault it is that we are stuck, that we are fighting, disconnected, unhappy, distressed. It's because you (finger pointing) never listen to me. It's because you are always critical of me. Then when the finger is pointing at us, we then get defensive, dismissive and point back. And boy is it a stuck painful place to be for two people who love each other, who both just want to feel loved, understood and accepted. We don't realize that is what is under this type of fight. The questions beneath are: do you really love me? Am I good enough for you? Do you see me? Can you understand and accept me? We are pleading for this. And in doing so, we don't realize that in trying to get seen and heard, we are attacking our partner and not hearing and seeing them. It's a vicious cycle.
How does a couple pull out of this? It feels so hopeless and defeating when it happens. And it feels so impossible and painful. But there is a way out. First we have to tune into those underlying questions and listen to the softer, vulnerable voice that asks those questions,  not the loud and angry, or cold and distant voice that is protecting the self from the perceived threat of our attacking partner.
The other really difficult part is recognizing where our partner is coming from. That they also have those questions. That they too are caught in this vicious cycle and are getting hurt in it too and being reactive. We can embrace and express our own experience of hurt and pain while still recognizing that our partner is not reacting and being hurtful on purpose, but just like us they are reacting to the vicious cycle and their own pain. We can stop blaming and shaming each other for this and recognize we are both hurting human beings who want to be heard, understood and accepted. There is no bad guy in this. We are both trying to be heard. We are both asking these vital, painful, vulnerable questions. We can both step back from this together, stop pointing the finger and go to the softer more vulnerable place and share what is happening there. That makes it a lot easier for our partner to come close and listen, and offer comfort.
What that looks like, instead of saying, you are never there for me, say…when we get caught in this, I end up feeling so alone and I don't know how to get you to hear me, and that feels scary. Instead of saying, you are always angry, negative and critical, say…I worry I won't be good enough for you, that I can't make you happy, and I end up not knowing what to do to make it better, and that gets scary.
We can then talk about what we need from each other. Be willing to express as well as listen to one another's longings for connection, acceptance, and understanding.
If you need help with this, our counselors are here to offer assistance.
Wishing you love and happiness always,
Dana
How to manage anger and resolve marital conflict without fighting about it.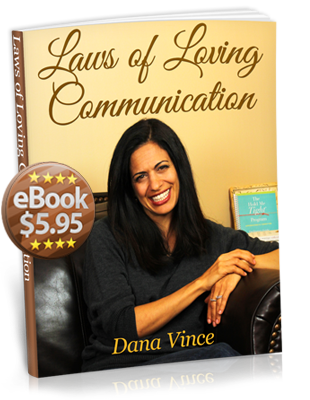 [button url="http://www.payloadz.com/go/sip?id=1325189″ color="autumn"]Click Here to Purchase Digital eBook[/button]
Welcome! If you are a couple struggling to communicate with each other, this eBook is for you. Laws of Loving Communication is a simple but effective guide for couples to learn the tools of communication that will help you to resolve relationship conflict, build greater intimacy, and stop arguing.
If you find yourself in the pattern of fighting about who is right, blaming each other, feeling like your partner doesn't understand you, wanting to be heard but feel like you never are, this book will provide you with the necessary relationship help and tools to break out of the cycle and begin to listen to and understand one another.
This book is based on information from top counseling professionals in the field such as William Glasser, David Burns, and John Gottman along with my own experience counseling hundreds of couples in my practice.
You will learn about how to define the goals of communication, stop fighting about who's right, turning complaints into requests, regaining a sense of goodwill and compassion toward one another, listening with an open heart and open mind, how to manage anger and other difficult emotions, and how to share with one another without getting pulled into battle.
I offer a full money back guarantee. If you are dissatisfied with the content of this book, you may contact me for a full refund. If at any point you need additional help resolving difficult issues in your marriage, do not hesitate to contact me. I will make myself available to you or provide you with the resources to best meet your needs.