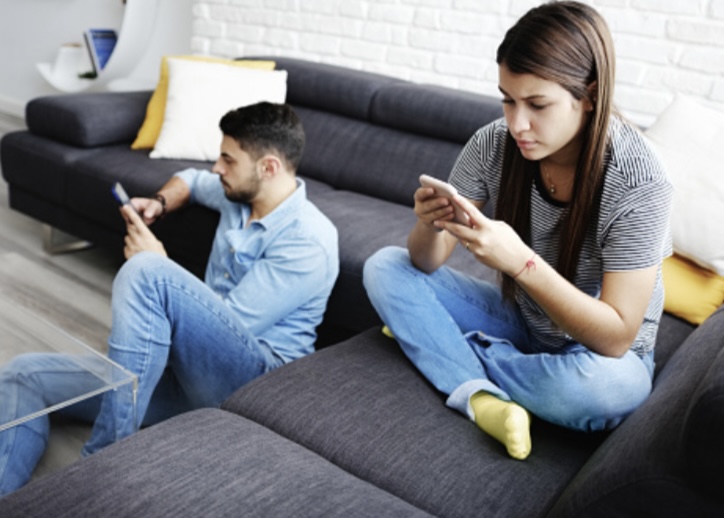 Social media and technology come up again and again in therapy sessions with couples as a source of distress, disconnection and concern. It comes up in a variety of ways. Here is a list of the most common complaints we hear from partners:
My partner's face is always in his/her phone.
I don't know if my partner is just playing a game or doing something important, so I don't know if I can/should interrupt or  not. I might start talking, and find my partner isn't even paying attention to me.
I was doing something important on my phone, and my partner just starts talking without realizing I am in the middle of something, and that's frustrating.
Friends or contact with people on social media that feel threatening to the bond of the relationship.
Answering texts or phone calls during time that is otherwise expected to be sacred to the couple.
Addictive habits around scrolling on social media during time together.
You can probably add your own complaints to this list.
In a world where we are all starving for more connection, we are looking for it in the wrong places. Social media and technology connect us in ways that we have never been connected before. We have friends on Facebook and instagram that we've never even met in person because we may have similar interests or ideas. But yet, it disconnects us more than ever because it takes us away from being present in the world around us and engaging with our important others who are right in front of us.
So what can we do about this? Here are some suggestions from unplugging from the digital world, and plugging in to your loved ones and being more present and accessible.
Put time limits on your phone around certain activities. For example; your phone can alert you when you've been on Facebook for more than an hour. Or when you've been playing candy crush for 2 hours.
Set some boundaries around when it's time to put phones and internet away. Maybe it's during dinner time, or maybe after 6pm. Or even just for an hour to engage with your family talking about your day and being with each other.
Check in with each other when you see your partner on their phone. Ask what they are doing and is it okay to interrupt so that you may share or have a conversation.
If you see your partner spending a lot of time in the digital world, rather than accuse or attack, let them know you miss them and would like to be more engaged and request to make a plan for that.
Be intentional about spending quality time with each other, and make that a time that phones are on silent and put away. If you don't want to silence a possible important call from your child, or that doctor's office you are waiting to hear from, put it on do not disturb and then set the exception to the numbers you will allow to ring through.
Be open and transparent about who you are interacting with digitally. Have conversations around expected boundaries to protect your relationship and each other. This is going to be different for everyone. Some couples are okay with their partner communicating with an ex on Facebook, some are not. Know and talk about how you and your partner feel about these things to avoid hurts down the road. You matter to and impact one another. Be thoughtful about how your communications with others might impact your partner. Also be reflective about why you might be engaging in certain communications. What need isn't being met. Address it rather than avoid and seek it elsewhere.
These are just a few issues and suggestions about protecting your connection with one another by being thoughtful and intentional about digital and social media use. I invite you to come up with your own ways of being present with and connecting with those around you in your real life. Your partner and your family need that from you.
If you need help repairing your intimate connection with your partner, contact us today. We are here to help.
Wishing you love and happiness always,
Dana